Ten reasons why Greece is an excellent holiday destination
After "Geo Saison" magazine
Because you can be good for yourself here
A small, horseshoe-shaped volcanic island in the southern Aegean that many do not even know. Good this way! At least if you want to stay away from large hotel complexes on vacation and have some peace and quiet. There are pleasant little inns for all demands. With over 70 beaches, Milos is a real bathing paradise. Some can only be reached by boat and over rocks with ladders. To get an idea of ​​the island's splendor, a tour with the catamaran is worthwhile. Then just stroll through the alleys for dinner. Many restaurants offer fresh fish and mezedes, starters, and the prices are more moderate than on the more well-known neighboring islands.
Because you can have everything here at once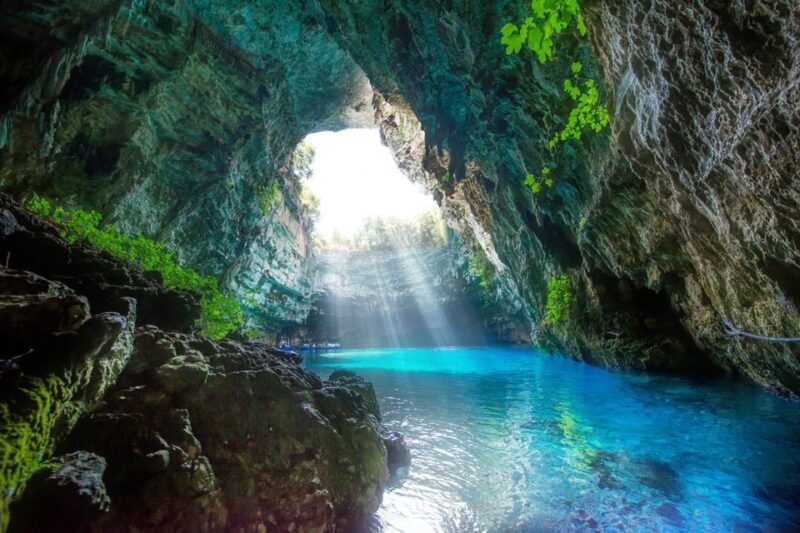 After such a long time without traveling, the longing for a vacation is great. But what if you can't decide – hiking or the beach, restaurants and romance or wilderness and adventure? Never mind, because anything is possible on the largest of the Ionian Islands, west of mainland Greece. A day here could look like this: Start with a hike in Mount Ainos National Park, where wild horses graze. Then to Enos, the highest mountain in Kefalonia at 1,628 meters. There on a moderate, little-visited circular route such as the Enos Trail near Vlachata Ikossimias (6.6 km). After a picnic with a view of the sea down again, through forests of black fir trees, which are unique in Greece, and by car to the Melissani cave near Sami (photo). In the grotto, which was already a place of worship in antiquity, a lake shines deep blue. Finally unearthly: the endless, white beach of Myrtos, which is one of the most beautiful and extraordinary in the country. Its bay is so large that there are hardly any waves – perfect for a swim in the evening sun.
Because you know how to sweeten your life here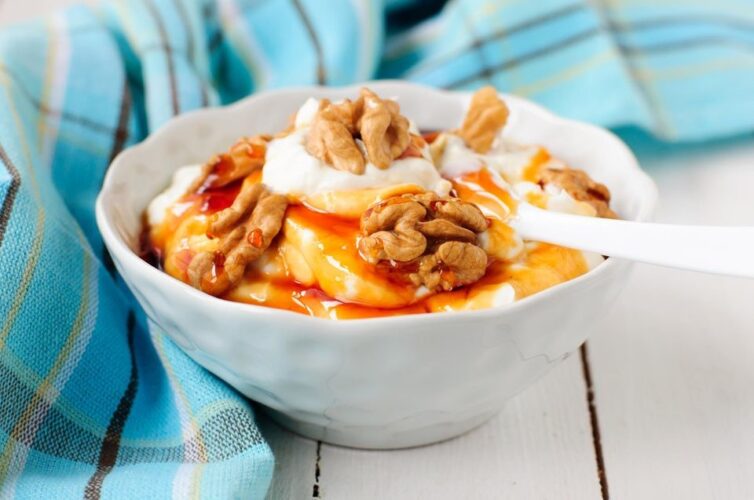 Greek honey is something very special and, for many, is one of the best in the world. Every region has its local honey specialties. For example, the malty, aromatic pine honey comes from the island of Thassos and the fragrant thyme honey comes from the Dodecanese. Pure varietal, without flavor enhancers and artificial additives and fillers, obtained from herbs and wildflowers, processed by local beekeepers – that's the whole secret. Cretan honey is even said to have healing properties. One thing is certain: honey is an indispensable part of Greek cuisine, it is sweetened, refined, baked and cooked with it. Definitely try: the starter Feta Saganaki – fresh feta, fried in filo pastry and drizzled with honey.
Because hustle and bustle and relaxation are not a contradiction in terms
Switch off and start the day in the most pleasant way – the Cyclades island is ideal for this. Although, like in Chora, it is overrun by tourists in the high season, yes! Because in numerous boutique hotels it is possible to completely escape the hustle and bustle. For example in "The Wild by Interni", which sticks to the cliff of Kalafatis like a swallow's nest. Big plus, besides tranquility: breathtaking sea views, elegant suites made of natural materials and an in-house tavern, in which excellent cooking is offered. Somewhat cheaper, but hardly less luxurious and very close by: the hotel "The Summit of Mykonos". It also has the best view from the pool on the slope.
Because you can quickly compensate for your island deficit here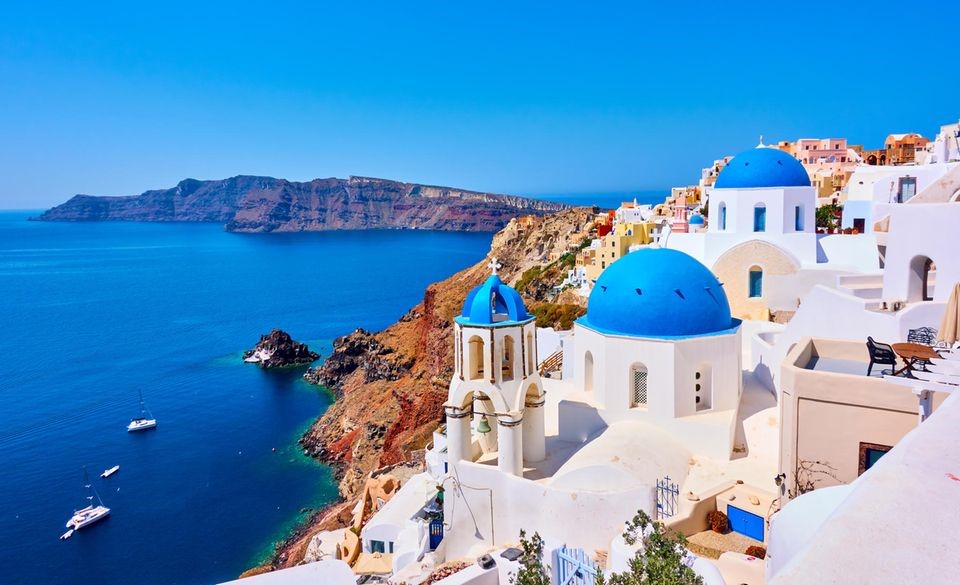 Greece is made up of more than 6000 islands and islets – impossible to get to know them all! It is still possible to immerse yourself deeply in this world by hopping from island to island by ferry, excursion boats and catamarans, for example on the Cyclades , the Dodecanese, the Ionian Islands or the Sporades. You can easily plan three, four or more islands for a two-week vacation. Good starting points are, for example, Mykonos or Santorin (photo), direct flights go there. Tip: book ferries in advance to avoid top prices. A health self-assessment may have to be completed for the transport.
Because you meet celebrities here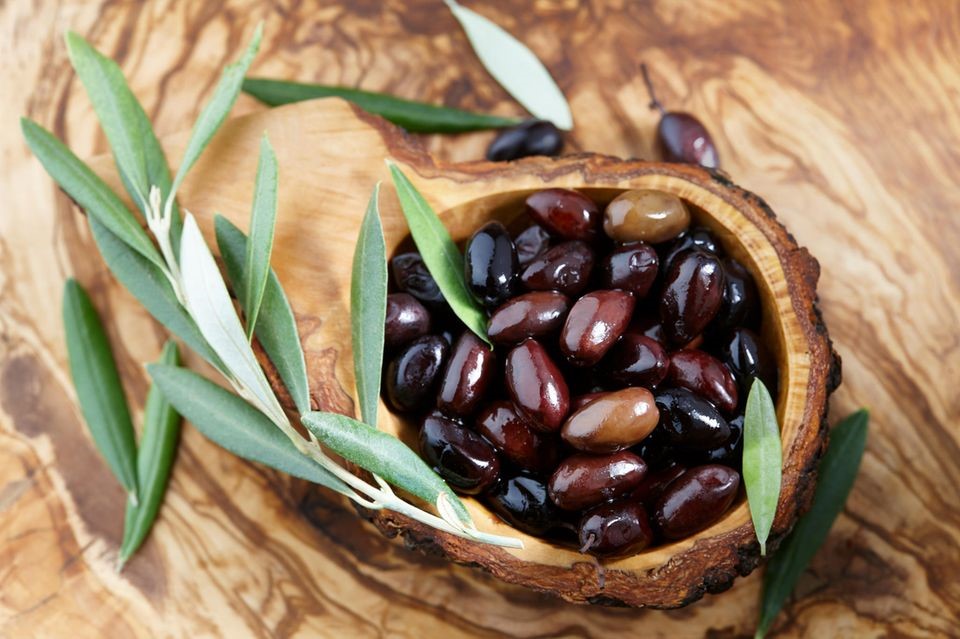 One of the best olive oils in Greece comes from the Mani, a region in the south of the Greek peninsula Peloponnese, more precisely: their "middle finger". It begins south of the city of Kalamata and ends at the tip of the peninsula, the southernmost point of Europe. The famous Kalamata olives grow in this isolated, rural area. While most dark olives are artificially blackened, these are naturally dark because they are only picked when they are fully ripe. Many of the local olive growers offer tours and tastings. One of them is the "Ben Olive Mill" in Parapougki, a village north of Kalamata. Also worth seeing on Mani: the cave lakes of Pirgos Dirou in the south. The most exciting thing is to chug into the stalactite underworld by boat.
Because you can get a taste for it here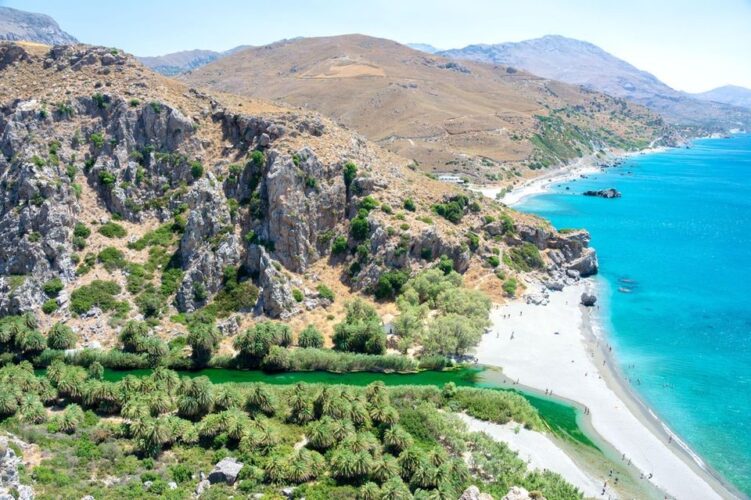 Do you love Greek food, but no mountains of meat on your plate? Then you should get to know the "Green Kukunari" in Pitsida on the south coast of Crete. The restaurant of the chef Ziza Tomic is an oasis of calm with a green backyard and brilliant vegetarian and vegan dishes. Just an hour and a half drive along the coast in a westerly direction for dessert the pretty Preveli beach (photo). Here a freshwater river flows into the sea, the water is crystal clear. At the river a path leads into the palm forest and to a gorge with a water basin in the rocks. The complete Preveli Beach circuit (remember to wear sturdy shoes and water) takes about three hours and is for advanced skiers.
Because starting over is commonplace here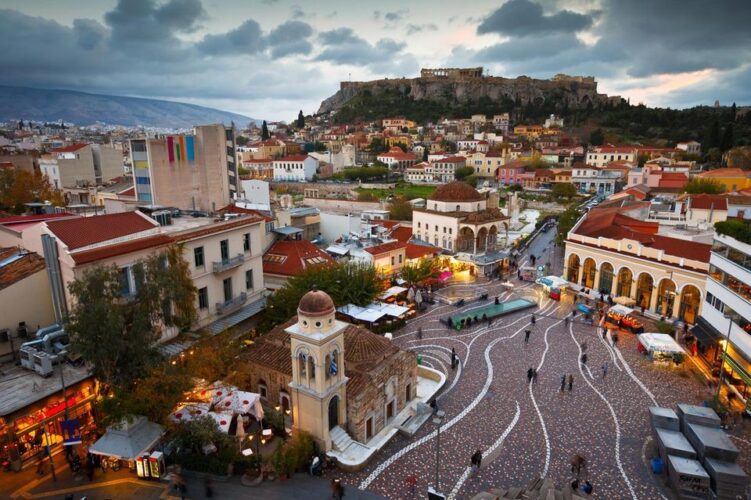 Athina, this wild diva with all her whims, her joie de vivre, the bright colors, contrasts and contradictions! Five million people live in the Greek capital, which not only has the country's most important airport and, with Piraeus eight kilometers from the center, the largest port – it attracts a wide variety of people from all over the world. But also many locals who return to their homeland from abroad. Athens' gastronomy is particularly exciting, with new bars, cafes, taverns and gourmet restaurants opening all the time. Strong recommendation: the "Shedia Home" in the center (Kolokotroni 56 / Nikiou), stylish café-restaurant, unique location, fantastic cuisine – and at the same time an aid project for the homeless. If you want to take a bath in the delicious flavors of Athens, should stroll through the farmers' market in the central Exarchia district (Kallidromiou). The development of the street art scene after the economic crisis is at least as astonishing as the cuisine of the old and at the same time so modern city. She has turned all of Athens into a colorful outdoor gallery.
Because you can experience blue miracles here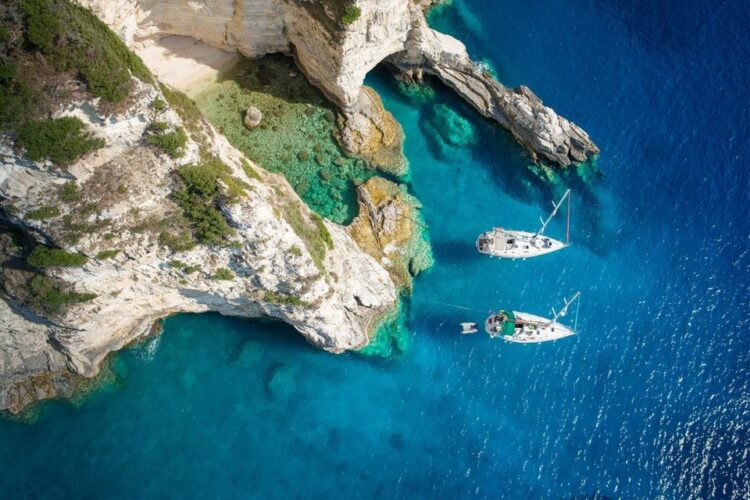 Blue sea, white pebble beaches and three colorful picture book harbors – also on Paxos, the smallest of the Ionian Islands, 15 kilometers south of Corfu, the color contrasts of Greece clash so wonderfully. The western coast is dramatic, with cliffs, sea caves and rugged rocky coastline. Fine sandy beaches make up the east coast. Between all the blue, the island is a hiking paradise with olive groves, rocky climbing areas, pine forests, old villages and windmills. According to Greek mythology, Paxos was created by Poseidon. He was looking for a quiet place for himself and his beloved Amphitriti. The island can be reached by ferry from Corfu in one and a half hours. Bathing tip: Erimitis beach on the west coast, created in 2007 by collapsing cliffs and a particularly beautiful place to enjoy the sunset. Only a narrow, stony path leads to your hidden favorite place. So have a flashlight with you in the dark.
Because refreshment is at home here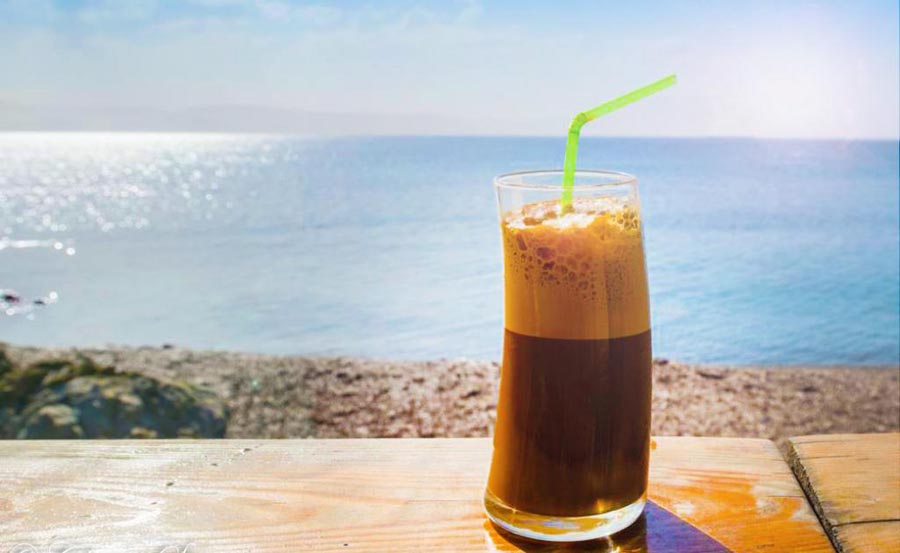 You read that right: In Greece people love coffee when it's cold, even for breakfast. Not a tragedy, just understandable given the extremely hot temperatures this summer! The classic here is called Frappé, a foamed, strong instant coffee on ice – and a delicious pick-me-up that, of course, tastes especially good on vacation. The drink was created by chance in the 1950s, when a Nescafé employee did not have hot water for his coffee. So he prepared it like powdered milk: with cold water in a shaker. Today, frappé is the most popular coffee variant in Greece. Alternatively, locals also love their "Freddo Cappuccino", cappuccino on ice. Be careful: the coffee is usually mixed with a lot of sugar if you do not intervene in time. Three useful words are therefore: 1. sketo = without, 2. metrio = medium, 3. glyko = sweet. Frappé is available on almost every street corner for 1.50 to 2.50 euros.